Tanquil & unspoilt,  fantastic gastronomy & home to some of the best beaches in the world, but do you know what other exciting fact we discovered whilst researching this quaint Balearic island…Gin is a big deal on the island and the perfect sundowner drink is called the "Pomada" made from locally distilled gin and mixed with cloudy lemonade – we're making one right now! Read on to find out our top recommendations of what to see and do around this beguiling island.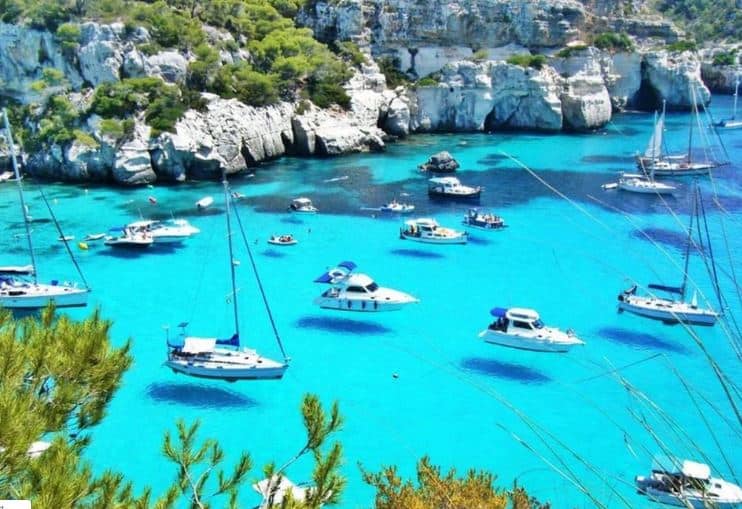 BEACH LIFE:
Fine white sand, the sea an almost-unbelievable shade of turquoise and the prettiest scenery mean that Menorca's beaches are often compared to the Caribbean and yet they're so close to home! With over 200 coves or 'calas' to explore here are our top choices for draw-dropping views to off the beaten track:
 Cala Del Pilar, is a wild beach reached via a 30 min walk along a pretty headland and well worth the effort and pretty easy even with the kids in tow. Cala Mitjana, is a scenic cliff-side bay reached by boat or 20 min walking trail –  more popular in the summer months so we'd advise to get there early! Or how about Cala Trebaluger, a quiet beach on the south coast, just a 20 min walk from the more popular Cala Mitjana.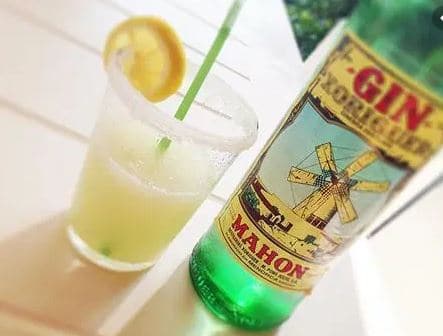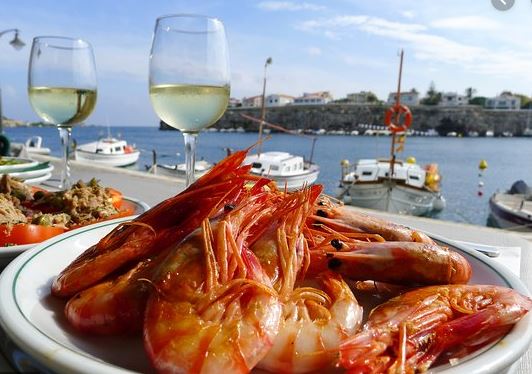 GOOD FOOD, GOOD WINE, GOOD GIN:
A lush climate and fertile ground mean Menorca is dotted with vineyards that produce some great local wines. Why not book a whole holiday around tours of the many wine estates and festivals dedicated to the grape throughout the year? One of our favourites is the Festes de Gracia in Mahon where bottles of wine are thrown into the crowd from the town hall! 
Alternatively, for those with a taste for the stronger stuff (like us!) a tour around the Xoriguer Gin Distillery is a fantastic way to spend an afternoon followed by a cool glass of pomada to take in the island's magnificent sunsets! 
Gastronomy is taken to a whole new level in Menorca as being surrounded by  the warm waters of the Mediterranean means that the island's seafood is exceptional. Look out for the local lobster stew caldereta de llagosta which is Menorca's most celebrated traditional dish. Sample delicious smelly cheeses at the many cheese factories, or try the popular tapas of sobrassada, cured pork sausage seasoned with paprika and served on toast.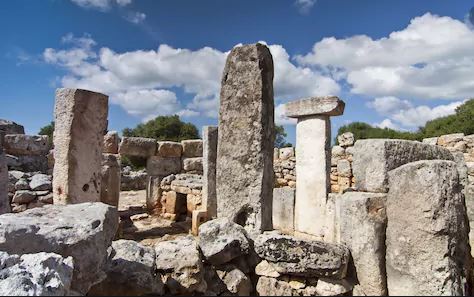 A NATURE LOVER'S PARADISE:
Menorca has relatively little mass tourist development and proudly boasts being a UNESCO Biosphere Reserve since 1993. This has resulted in most of the island remaining a genuine oasis of unspoilt beauty and the island is committed to the protection of its natural landscape. Species such as secretive pine marten, peregrine falcons in the ravines of the Barrancs and turtles, thrive in five beautiful parks and numerous reserves across the island. Visitors can hike around the entire island using the Cami de Cavalls trail and also explore Menorca's original capital Ciutadella which features a particularly gorgeous Old Town with a wonderful mix of historical buildings, fantastic shops and buzzy cafes. We suggest visiting its gothic Santa Maria cathedral, built on the foundations of a 13th-century mosque. In addition to this, there are an impressive 1500 megalithic sites on the island proving a prardise for archaeologists, history buffs or anyone interested in ancient civilisations.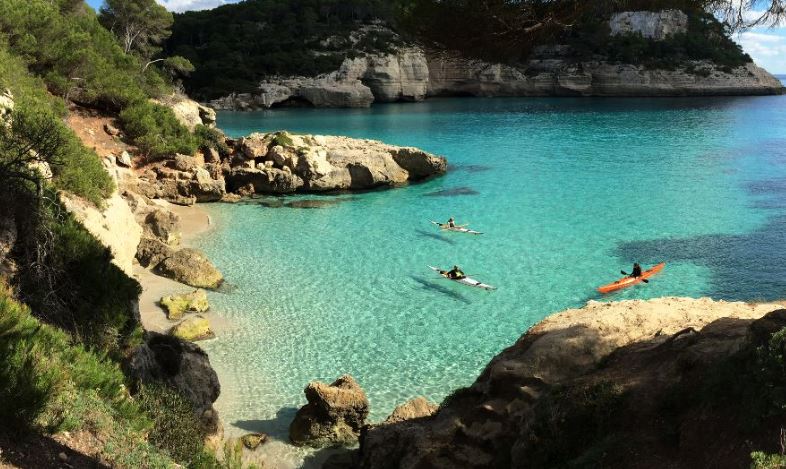 GET OUT ON THE WATER:
Menorca is rapidly developing as a centre for watersports. With strong prevailing winds, Fornells is one of the best resorts to enjoy windsurfing, sailing and kite surfing. Head to Binibeca to search for underwater shipwrecks while scuba diving. Alternatively, with its spectacular range of coves to choose from, there will always be a quiet spot perfect for snorkelling, kayaking or paddle-boarding for those seeking a calmer activity. 
THE ULTIMATE SUNSET:
We highly recommend a visit to Cova d'en Xoroi which is a natural cave that houses a sophisticated lounge halfway down a cliff! As the sun dips into the Mediterranean, grab a cocktail and listen to the waves crashing on the rocks below. As dusk appears, torches are lit and the laid-back venue transitions into a lively night club.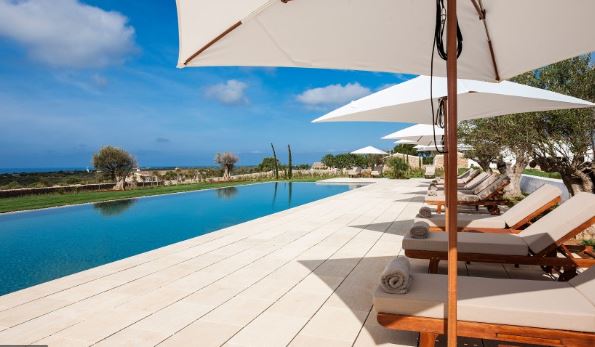 WHERE TO STAY:
There are plenty of gorgeous hotels, villas and apartments in Menorca so it's an easy choice for a family holiday, a friends weekend away or a couples retreat. We will happily advise which accommodation is best for you, but here's a few to take a look at…
1. Hotel Torralbenc (pictured above) is a collection of white-washed farm buildings dating from the 19th and early 20th century, that have been renovated into luxury accommodation, respecting the rich heritage and archaeology of the area.  The hotel boats stunning countryside views of the local vineyards and is more suited to grown-ups although children are welcome year round, but there are no specific kids facilities.
2. The Melia Cala Galdana is set in one of Menorca's most beautiful coves and enjoys spectacular views of the bay. There is a large swimming pool, a range of land-based sports activities and watersports, plus entertainment in the evening. More suited to families or those looking for a livley hotel in easy reach of a local town. For younger guests there is a kids pool, mini club and children's menus at dinner. 
If Menorca sounds ideal to you, we look forward to helping you plan your next get away.
(L-R) Lizzie, Christian, Claire or Victoria.
Tel: 020 8891 0166 / Email: [email protected]