Canada really does produce an unfathomable amount of Maple syrup – an average of 10 million gallons a year to be precise! Honestly though, this was not my sole reason for wanting to visit this picturesque part of the world. Canada has long been on my bucket list as I love the outdoors and any kind of adventure. So when an invitation came my way to spend a few days in Vancouver and then out to Kelowna – a waterfront town packed with wineries & known as "Napa North" – I jumped at the chance! 
We work closely with Prestige Holidays when planning itineraries to all parts of Canada & Alaska. Over the years we have got to know the team really well and they completely understand what our clients are looking for – be it fun family adventure, spotting all kinds of wildlife, to the more indulgent experience journeying through The Rockies on board the iconic Rocky Mountaineer.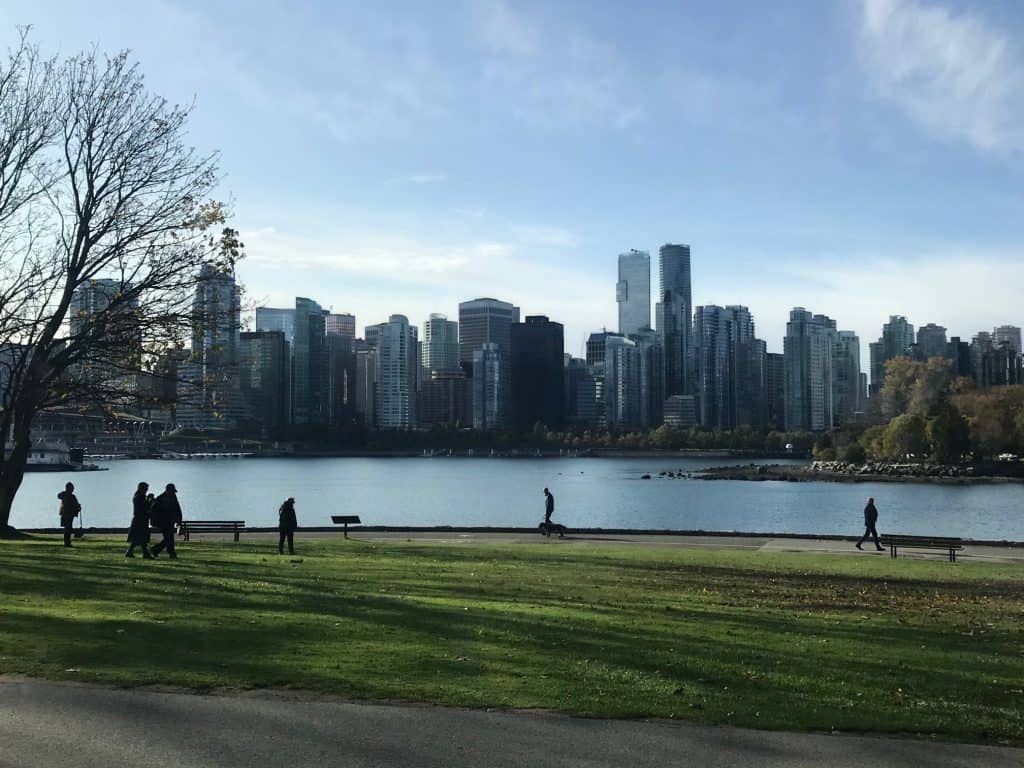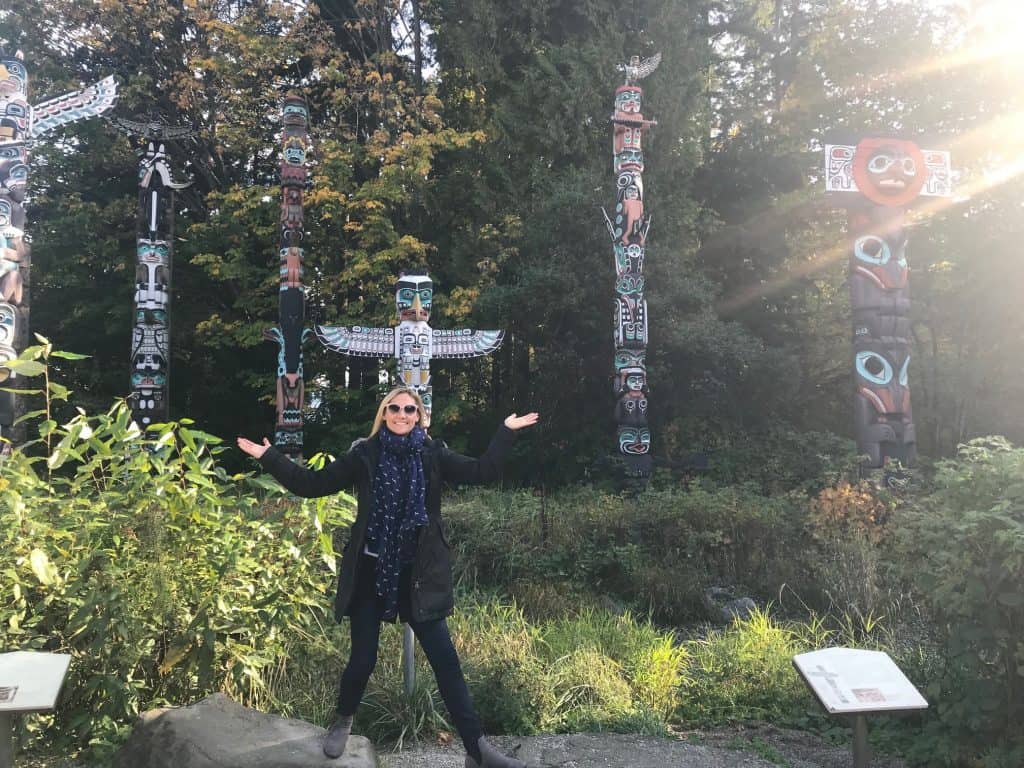 My trip got off to a great start, with seats in Club Class on BA! This is such a perk of the job and a really lovely treat! Then a mere 10 hours later, I touched down in Vancouver, reached my hotel – The Sheraton Wall Centre – and we were at a sports bar sipping a cool G&T all within 90 mins of landing. The following morning was a chance to scope downtown Vancouver and get my bearings. The Sheraton Wall Centre is in a great location, offers comfortable rooms and is affordable too. I also got the chance to see the 2 Fairmont hotel's down at Canada Place which is right on the waterfront and both hotels are very luxurious. They make the ideal stop either before or after an Alaskan cruise as the terminal is quite literally across the road. 
Visiting Vancouver in autumn – or Fall, should I say(!) – shows off the city skyscrapers, the magnificent North Shore Mountains, the bountiful, bright red maple trees & 100-foot tall Douglas Firs, all with a brilliant blue-sky backdrop. It's heaven for budding photographers! So, after becoming accustomed with the city for a few hours, we ventured the short 25 min drive to Stanley Park, which boasts over 1000 acres on the western peninsula and is one of the largest urban parks in the world. Here, visitors can hire bikes and cycle the 9km Seawall path, explore the many look-out points, the totem poles at Brockton Point & marvel at the centries-old red cedar trees. We took the winding route through Stanley Park and out over Lions Gate Bridge towards Capilano Park, home to the famous Capilano Suspension Bridge, the tree-top tour and the newly built Cliffwalk. The park is great for all visitors, there's lots of interesting facts to learn from the guides and walking across the bridge is not for the faint-hearted. It's quite easy to spend 2-3 hours here and we even saw bald eagles flying overhead! 
Onwards for a lunch stop and what better place to try tonnes of new and delicious Canadian treats, than joining a foodie tour on Granville Island. Here, we met Jesse, whose passion for all kinds of food was brimming to the fullest and he made the 2 hour tour a real highlight. We skipped the queues and sampled delicacies including organic breads, local charcuterie, British Columbia cheeses, melt-in-your-mouth donuts and the epic maple-syrup-dipped almonds! All washed down with a pint from Granville Brewery! It was a really fun afternoon and I would highly recommend Vancouver Foodie Tours!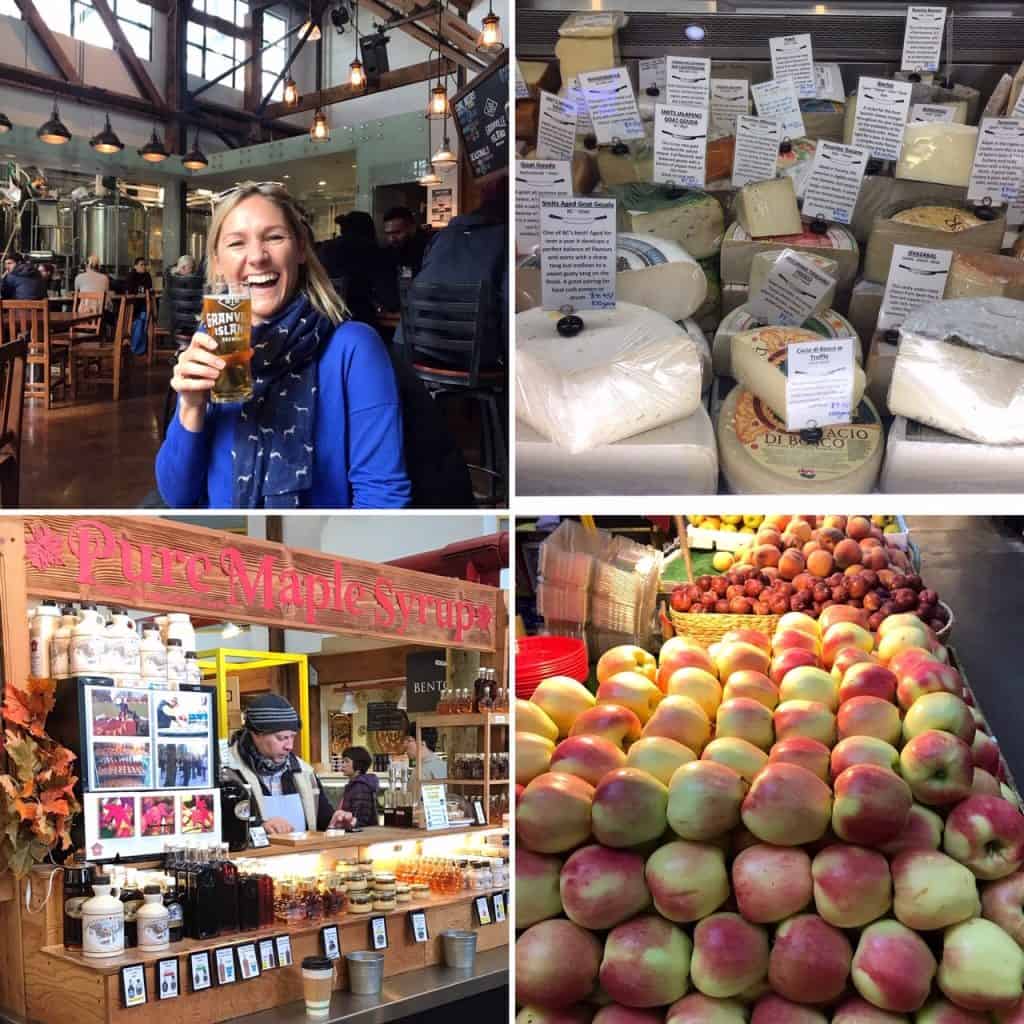 The next day we flew an hour east to the pretty town of Kelowna. I was initially a little hesitant about what I would discover here and would it match up to being in the fantastic city of Vancouver? Well, it took precisely 3 minutes of clocking the surrounding landscape of snow-capped mountains, unspoilt views as far as the eye could see and learning that we were being whisked off to the largest winery in BC, to rest my fears and I settled right in to my new home for the next 3 days! 
First stop on our tour of Kelowna's finest wineries, was Mission Hill Estate and wow what an experience! Picture this…the sky was a piercing blue, the rows upon rows of vines swept down to a sparkling lake and the center of the winery was reminiscent of a small Italian town complete with soaring bell tower. We met Brum, a charismatic guy who brought the wines to life and we tasted their award winning sparkling wine, the Reisling and the most delicious Pinot Noir – it may have had something to do with the quantities consumed in a short space of time, but I felt compelled to purchase a couple of bottles – happy days! 
From Mission Hill being the largest and probably most glamorous winery in BC, next stop was to a small, family-owned winery called Quails' Gate. Again benefiting from sweeping views over the lake, hawks buzzing over-head and that gorgeous blue sky, meant that we saw this winery in all its finery (sorry…bad pun!) Here, the stand-out highlights were the crisp Chardonnay and the renowned British Columbia Ice Wine! Much like a dessert wine, Canadian Ice Wine can only be produced when the temperatures plunge below -8oc and the grapes naturally freeze on the vine. The resulting juice is lusciously sweet, but also beautifully balanced with the vibrant natural acidity that BC wines have become known for.  
 You can probably tell, this was a pretty smashing day!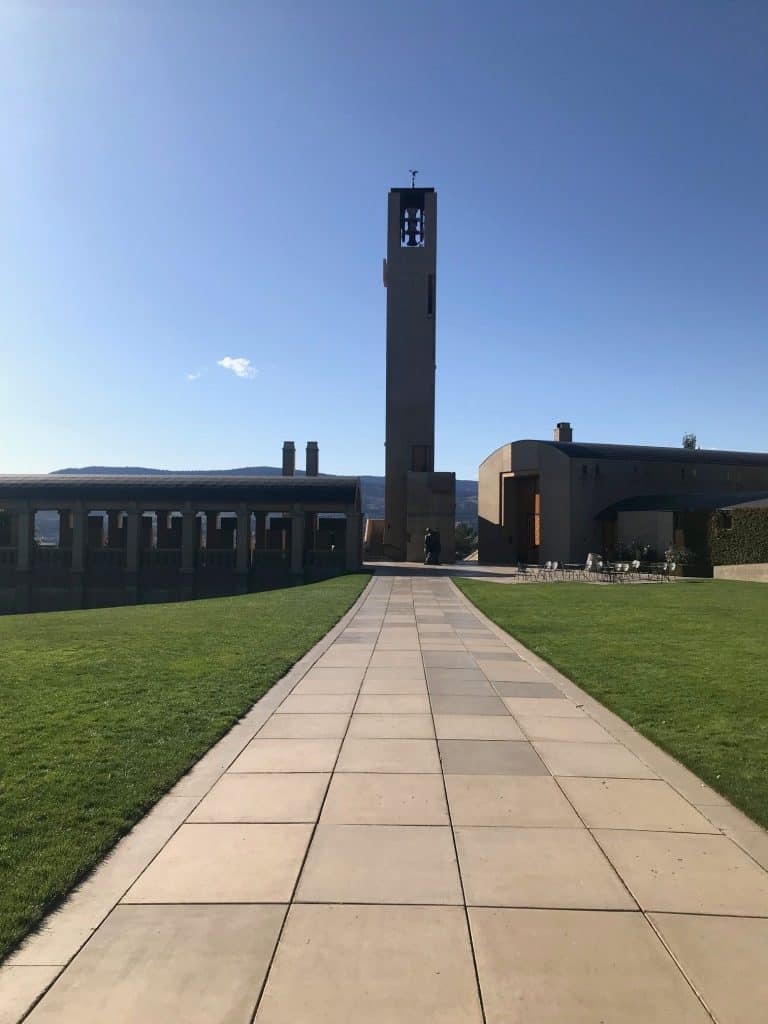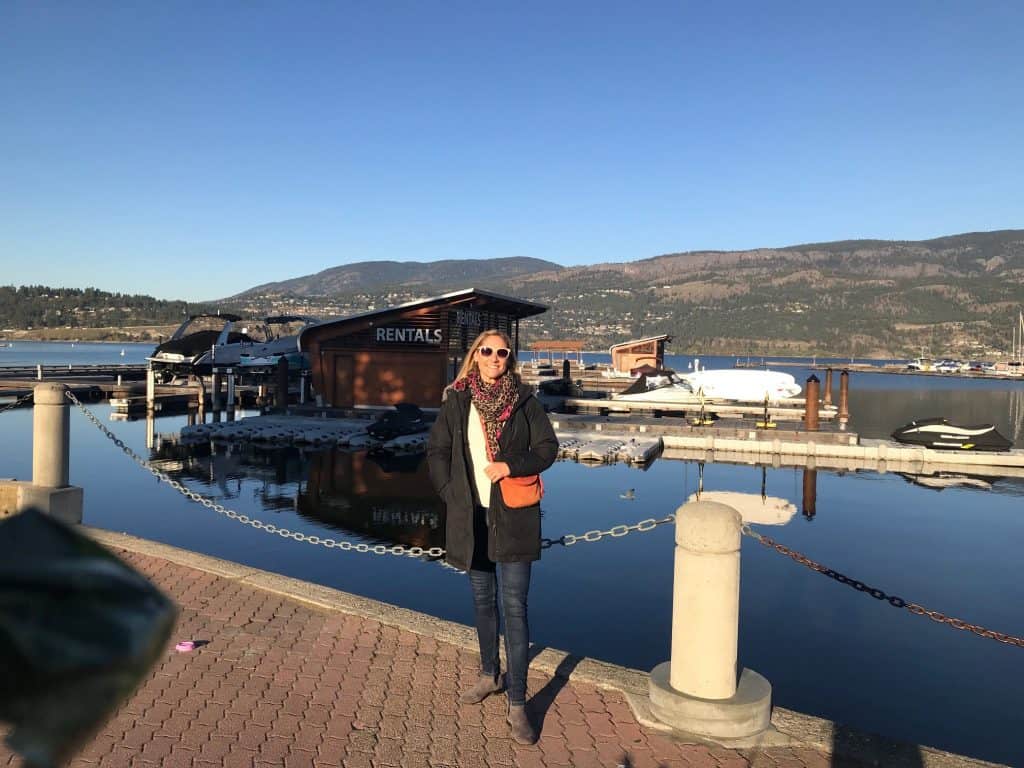 The following day was spent driving alongside breath-taking lakes & rivers, some more than 100 miles long! We drove long stretches on those typical wide-open Canadian roads, flanked with tall fir trees either side and mountains in the distance, on route to our next destination. There are more than 50 enormous lakes in the Okanagan region and we were heading for a small hotel, beautifully perched on the banks of Little Shuswap Lake. Here we learnt lots about the native Indian culture, we experienced the famous salmon run – desperately hoping to spot a black bear at the same time – and we had the most sensational 4 course meal with locally sourced ingredients and paired with fine wines for nearby wineries – obviously I had become completely au fait with BC wines by this point!  The Quaaout Resort & Spa is a place that quietens the senses and calms the mind. Spending time by the lake in the summer months, enjoying kayaking, swimming and hiking is equally complemented by time in the autumn or winter with biking, snow-shoeing or even joining a native Indian on a hunting expedition! 
My final stop on this fantastic tour of BC was out past Kamloops (the town known mostly for its overnight stop on the iconic Rocky Mountaineer) and  so as well as passing many more stunning lakes and mountain back-drops, I was on route to a town called Sun Peaks. I checked into The Sun Peaks Grand Hotel and was very impressed with the rooms & suites – especially the Mountain View Suite, with living area, kitchen and over-sized bedroom all with an outstanding view of the mountain range. I quickly learnt that Sun Peaks Resort is just as glorious in the summer as it is in the winter,  with activities such as hiking, biking, bear spotting, segway tours, horse riding and kayaking available in the summer months and then 130+ runs for skiing, plus dog sledging, horse drawn sleigh rides, tubing, ice fishing and much more in the winter! What is not to love about this place?! Being here in the shoulder season, allowed us to see a number of the hotels that are usually completely full in both seasons and it was great to see the town still very much open for business with the 900 year-round residents.  
Sun Peaks makes the perfect stop when flying into Calgary and driving between Banff, Jasper and Lake Louise, before then heading onto Vancouver.
As you can probably tell, I loved every minute of my short, but action-packed trip to British Columbia and I would definitely recommend it to anyone who is looking for a first time visit to Canada or to someone who has only been to West Coast Canada or has only been to the major cities. Combining the laid-back vibe of Vancouver with a real outdoors experience in the Okanagan Valley – with countless wineries to enjoy – makes for a must-do holiday and one for the bucket list!
If you'd like to know more about Vancouver, Kelowna or any other part of Canada or Alaska, then please do get in touch to start planning a holiday to this exciting part of the world! 
Call Claire on 020 8891 0166 or email at [email protected]