Hints and Tips on travelling to Disney with small children.
Hi everyone, Lizzie here! 
I am a HUGE Disney fan I have been twice now and both times at Halloween. 
It's one of the most magical places for both adults and children. I am a big kid at heart and I travelled with adult friends but would love to go back with my niece and nephew sometime soon.
I have written my blog with some advice for those travelling with little ones (Under 5). While you may think they are too small to travel to Disney at this age – it is totally doable. You can also get great deals for travel 'off peak'.
My tips will also carry over to older children as well, and of course those adults who want to indulge in some Disney Magic!
Accommodation
You have plenty of choice when it comes to accommodation, with 7 Disney themed hotels. Another 8 hotels are also available close to the parks.
I stayed at the Vienna House Dream Castle. Although this is not one of the official Disney hotels, the parks can be easily reached by a short shuttle ride (10 Mins). I was very impressed with the room and the breakfast was excellent and really set us up for the full days at the parks.
If you would prefer to stay closer to the action then the Disney Sequoia Lodge is only 15 minutes' walk through the village to the parks. This is perfect for nature lovers as it's surrounded by nature and at the edge of lake Disney. 
If you want to pull out all the stops then the iconic Disneyland Hotel is the one for you. This hotel offers the very best quality and service and is in a prime position at the entrance of the Disneyland park. For something extra special, consider the Club Rooms which include breakfast with the characters and many more added extras! 
Parade
Stand by the start near 'It's a Small World' as less people go to that end, so it's not as crowded. You can pick up a programme with the times but usually they have a day time and evening parade.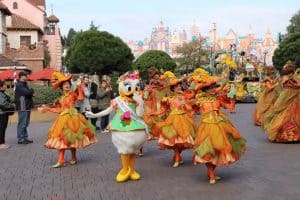 Meet the Characters
Specific characters and times are all listed in the park programmes. Please note that to meet the princesses the queue is enormous, so my advice would be to do this first thing. A little bit of insider knowledge I picked up, was beside the boat ride they sometimes have characters in training, so you can get to meet some of your favourite Disney characters 'unofficially' if you're lucky. 
Walt Disney Studios Park
In the Studios Park I highly recommend going to see the Disney stage show. This is included in your entrance fee, but it gets very busy. The first show of the day is at 11:30am. I advise turning up at least half an hour before, to get a good seat.
 Rides
Most of the rides in Walt Disney Studios are slightly bigger, so not as many for small children. It is a good idea to do this park first and have more time for the main Disney Park. 
 Smaller rides in Walt Disney Studios include  The Tram Tour &  The Animation Centre.
Smaller rides in main park include: Peter Pan Ride , Pirates of the Caribbean, Dumbo Ride, Tea Cups, Carousel, Buzz Light Year Ride, Meet Micky Mouse, It's a Small World. 
You can also walk up and inside the castle which has lots of beautiful stain glass telling the story of Sleeping Beauty.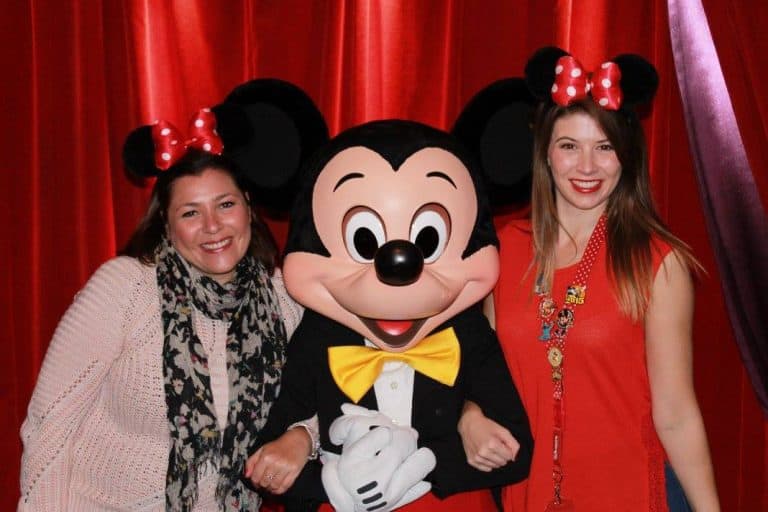 Eating Out
Lots of restaurants can be found in the Disney Village (more choice than inside the parks). If you are travelling on a Half Board package it is advisable to book ahead. 
Make sure you consider timings when booking.  Just after fireworks is peak time so it maybe best to eat before if travelling with small children.
Food in the parks can be expensive so I advise having a good breakfast. If you can, bring some snacks and nibbles for the kids throughout the day to save on costs. 
Tickets
Included in park tickets you will get a few Fast Passes. Make sure you use them wisely on some of the more popular rides to save time. 
Dressing Up
All the children I saw at the park had a costume on. It's a good idea to bring something with you.  Please note that no matter how much you want to – dressing up is for children only!!
As an adult however, it is almost mandatory to purchase some sort of head wear!  Believe me you won't feel out of place as you look around everyone will be wearing something.
I would advise waiting until the end of the day and then visiting the large gift shop in the Disney Village which has pretty much everything.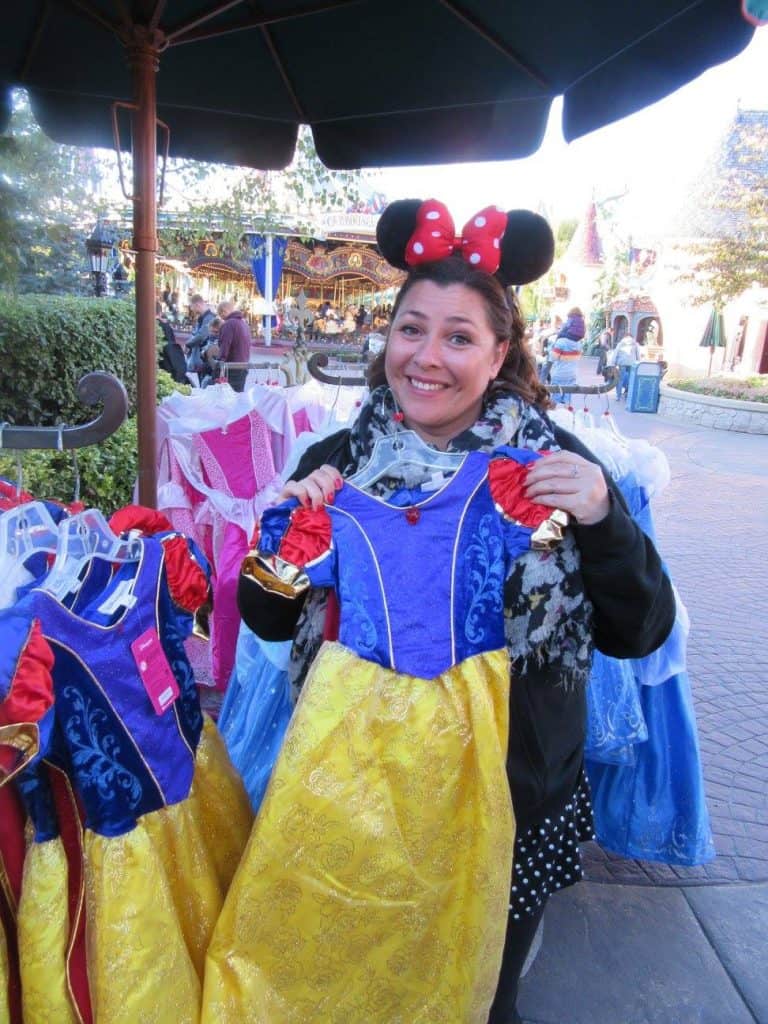 Fireworks
The fireworks display was one of my highlights. I must be honest I did shed a little tear, I was so overwhelmed by how magical it was.
It can be a long day but make sure to stay and watch them – it is truly magical. Little ones may get tired so try and have a push chair handy. 
 Offers:
Dine for Free and Save 20% on Your Hotel and Park Tickets!
Book by 28th November to receive a FREE Full Board Meal Plan and 20% off your Hotel and Park Tickets! For arrivals from 6th January until 1st April 2019.
To talk all things Disney feel free to contact Lizzie: 
Telephone 0208 891 0166 or email [email protected]