Here are our thoughts on travelling now, our opinion of Bella Mare Hotel and why we think hotels like this are perfect for a post-lockdown holiday!
What was the airport experience like?
Well, it was extremely quick and very efficient. We flew from Gatwick, masks were worn by everyone we came into contact with including all passengers and there were plenty of staff around, plus hand sanitizer stations. Anyone travelling to Greece now, requires a form to be completed within 48 hours of travel and these details were checked before we could go through to the bag drop area. Security took less than 5 minutes and measures were in place to keep socially distanced. Once airside, there were a variety of eateries open, some with queues for seating and all seemed well managed. Our flight to Corfu was an early departure at 6am. We flew with BA who served beverages and some food items on board and the flight was a speedy 2 hours 45 mins! Once we landed in Corfu, we quickly got through immigration where they were randomly checking passengers for temperatures and any other signs of Covid-19. We were not chosen and so collected our bags, met our Simpson Travel representative and were shown to our taxi, where we all wore masks for the 40 min journey. Overall, the whole process felt safe and efficient.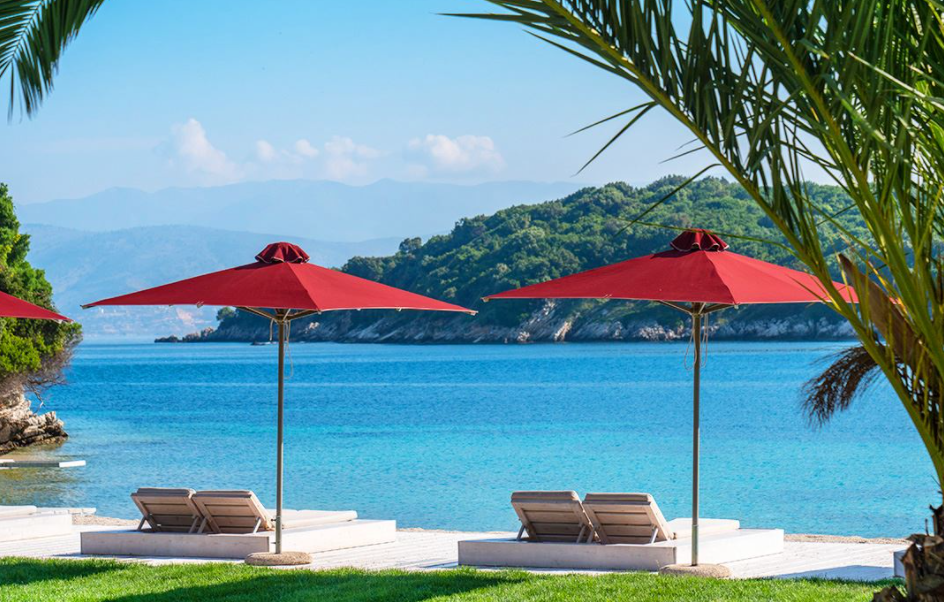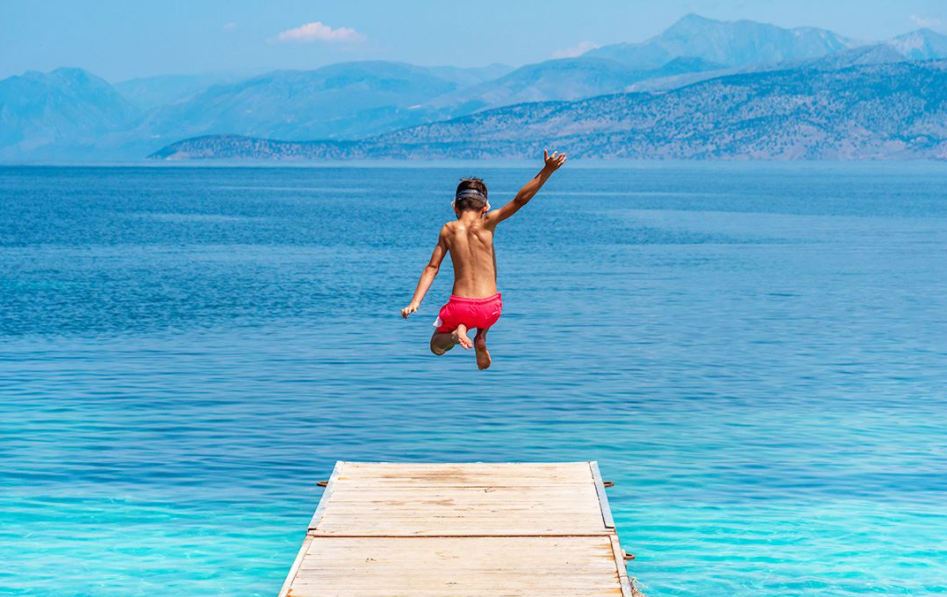 What were our first impressions of Bella Mare Hotel?
After the early start we arrived a little jaded, but wow what a view to arrive to! It took us precisely 5 minutes to shake off the journey and feel relaxed and ready for a lovely week in the sunshine. We were warmly welcomed and shown to our Family Suite which had one bedroom, bathroom and a living room with a small kitchenette plus two single beds for the kids. There were lovely welcome gifts too, including local sweets, handmade soaps and a lovely note from the hotel manager. The view from our suite was of the beautiful gardens and the bay. The large hotel pool is just a few steps from the beach and there are a line of large, comfortable sun loungers, ideal for an afternoon snooze.
In our opinion, Bella Mare Hotel has a seriously enviable location; set right on the beach in Avlaki Bay on the North West Coast of Corfu. Just 40 mins from the airport and a 5 min drive to the local harbour town of Kasioppi. This lovely, boutique hotel is part of the Simpson Travel brand, who we are great supporters of The Simpson portfolio of hand-picked hotels, villas and apartments are in some of the most sublime locations across The Med. We receive brilliant feedback from clients every time they stay at a Simpson hotel as they are the perfect fit for families, couples or groups of friends travelling together.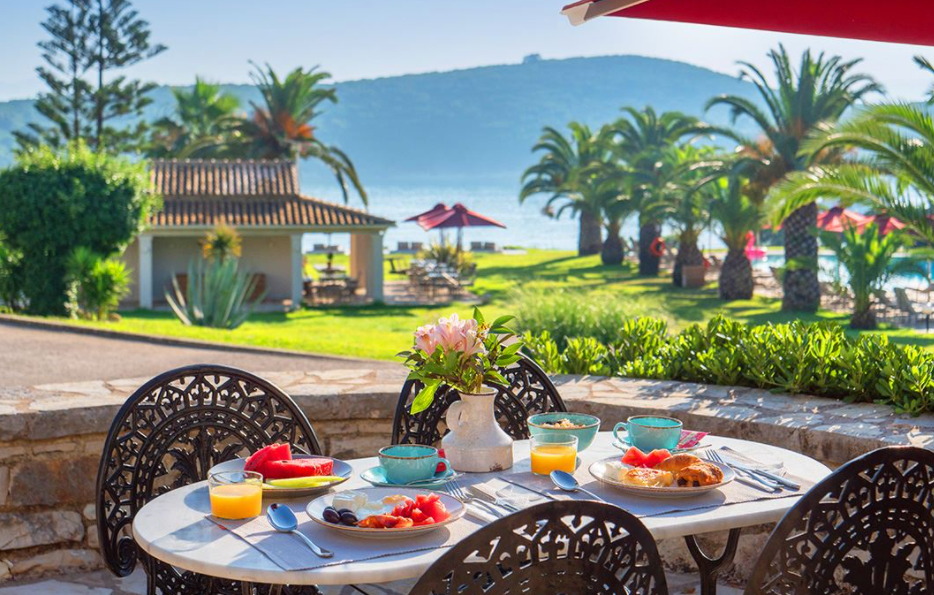 A typical day in the life of a guest at Bella Mare
Most days started with a late breakfast, which is served from 7.30-10.30am and consists of freshly prepared breads, home-cooked delights including eggs, mushrooms & sausages to Greek yoghurt & local honey to spinach parcels and mini cheese pies – not forgetting the Greek salad and platters of fruit. But the pièce de résistance were the fresh doghnuts and chocolate cake! As a safety measure, breakfast was served to us and the staff were extremely friendly and helpful. After a very filling breakfast, the kids headed for the pool, whilst we took up our spots on the sun loungers. It was easy to keep an eye on the children as the pool is just a few feet away. The hotel attracts like-minded families and all the children becomes friends on the first day. Another safety measure was daily room cleaning which took place just after breakfast. We all enjoyed lots of swimming and snorkelling in the sea and jumping off the jetty! The pool bar served a relaxed menu and the afternoon beer arrived in chilled glasses! We tried to catch the last of the sunshine before getting ready for dinner and heading into Kasioppi. We ate at wonderful restaurants right on the harbour and the town had a brilliant lively vibe with excellent serivce. Everyone we spoke to said how grateful they were to have as long a season as possible and we were so glad we were able to take our planned holiday with our best friends which we had booked a year in advance.
On another day, we hired a boat from the jetty right next to the hotel. We cruised up and down the gorgeous coastline, stopping to snorkel, swim through caves, jump off towering cliffs and lunch in a beautiful spot called Agni Bay. The whole day was an absolute highlight of the week and we've got memories to last a lifetime!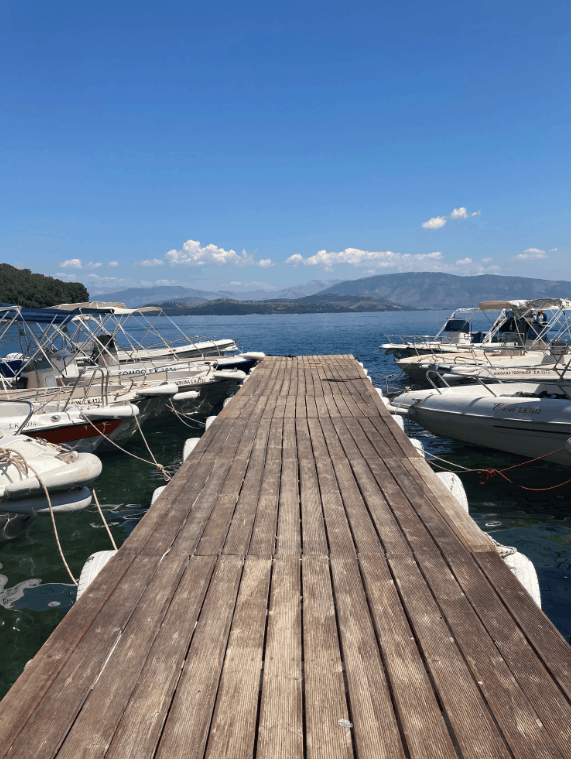 Why are small hotels perfect for a post-lockdown holiday?
Bella Mare Hotel has just 31 rooms and suites, including Executive Suites that share a private infinity-edge pool and the use of a pool-side bar. There are also three private villas with pools perched up on the hillside. This hotel, as well as many other boutique hotels, are an ideal choice for a post-lockdown holiday because they offer excellent personal service, great attention to detail and often ooze the ambience of being a guest in a private home. So after months of lockdown, to arrive at a hotel and be greeted by name, welcomed with a cold drink and shown straight to your room, means a great deal more than feeling like one of hundreds of guests in a larger hotel. At Thames Travel, we contact each hotel before a client arrives, to arrange a welcome note from us and to make sure our clients feel special and valued. Smaller hotels get the personal touches just right. It varies from hotel to hotel, but these touches can include a personal welcome from the management team, a welcome bottle of Champagne, stocking the mini bar with premium drinks and complimentary use of beach equipment, the gym and some of the spa facilities, plus fruit platters, sunglasses cleaning or cold towels by the pool. Many high-end boutique hotels are privately owned, set in incredible locations and offer gastronomy that is second to none. These are just a few of the elements that give guests a greater level of comfort, service and style. 
When you're ready to book your next holiday, why not consider a small, luxury hotel? Give us a call and we'll happily share our advice and experience with you. Call us on 020 8891 0166.