When it comes to offering our advice and recommendations for a trip to Australia, we are pretty well-travelled and extremely knowledgeable as Claire & Christian spent 6 months travelling around the country some years ago and Lizzie spent a year living there! 
Here's the first of many blogs on how best to travel around down under with Lizzie's take on the incredible East Coast!
I first travelled to Australia as part of an around the world trip in 2007. I spent just over a month making my way from Sydney up to Cairns and I saw so many amazing sights along the way. I started my Australian experience in December so I could spend Christmas and New Year in Sydney! Wow, what a brilliant way to start my adventure and Sydney was a big tick off the travel bucket list!
Sydney is a great city to visit, easy to get around with shops, restaurants and bars galore. It has everything you want and more. My favourite spots were Darling Harbour, The Opera House and The Botanical Gardens. 
The main highlight for me however, were the beautiful beaches! I highly recommend doing the 'Coogee to Bondi Beach Walk' it's a lovely way to really take in the surrounding scenery. It's a long walk with plenty of stops to swim along the way, make sure you take sun screen and plenty of water!
Getting out of the city I visited the Blue Mountains and the Hunter Valley, bother offer lush green scenery and dramatic views. They show the wilderness beyond the city lights and they are a World Heritage Area too, taking about 2 hours to drive to from Sydney. There are also train and coach tours to the area if you don't want to drive.
From Sydney I travelled further into New South Wales and made a stop at Coffs harbour home of the giant 'Big Banana'. Coffs Harbour is a great place for swimming, surfing, sailing, diving and fishing.  
After this I travelled up to one of my favourite spots Byron Bay. I instantly fell in love with this place, the laid-back atmosphere with spectacular beaches, the iconic Cape Byron lighthouse, the Byron Bay markets and the endless, incredible sea food – there is a lot to love! Byron Bay hosts two large music festivals each year too – Byron Blues Fest and Splendour in the Grass – these are huge events and great to experience if you get the chance.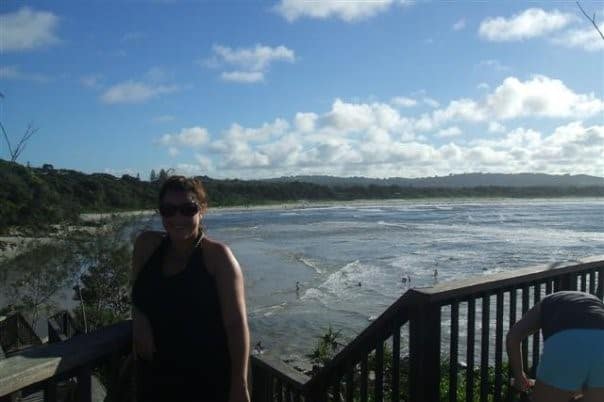 From Byron I made my way into Queensland, I stopped very briefly in Surfers Paradise. Surfers is very busy with lots of activities going on and a lovely nightlife. I then took some time to visit friends in Brisbane, which later became my home for 6 months. Brisbane is a great city, its known affectionately as "the sunshine state" and offers great weather year round. I spent my weekends at the Streets Beach in South Bank soaking up the sun and taking a dip in the cool waters. It's also a great base to go off exploring other local towns and inland.
One of my favourite days was visiting 'Australia Zoo' – home of the incredible crocodile hunter  Steve Irwin. The day I spent at the zoo far exceeded my expectations, I got to hold a Koala, feed kangaroos & elephants and stroke a wombat. The zoo is full of conservation projects and is so informative and interactive, it's a must for any age!
Carrying on up the East Coast Noosa was my next stop, such a beautiful place to spend a few days. Noosa offers a variety of accommodation including villas and apartments. I took myself off to Noosa National Park for the day and I am so glad I did. I spent 6 hours walking along the coastal path and it was glorious – exhausting & hot – but my word the views are stunning. The Noosa Everglades are also a great way to explore the scenery by guided kayak. 
One of my most memorable parts of this trip was going to Fraser Island, the only place in the world where tall rainforests grow on sand dunes. Fraser Island stretches over 123 kilometres in length and 22 kilometres at its widest point. With an area of 184 000 hectares it is the largest sand island in the world. Fraser Island is full of beauty with over 100 lakes in a variety of colours. Stunning beaches that stretch as far as the eye can see, incredible rainforests and amazing wildlife. You need at least 2- 3 nights to explore the island and its full glory. 
The next major stop for me was Airlie Beach and the Whitsundays, I took an overnight coach straight from Fraser Island. For those wanting a more leisurely trip I recommend stopping at the small picturesque surfing town Seventeen Seventy and Rockhampton where the great barrier reef. begins.
The Whitsundays are made up of 74 islands next to the great barrier reef. People travel from all over the world see the white sands of Whitehaven Beach, the stunning beauty of the Heart of the Reef and to experience the world class resorts and sailing trips. The islands are ideal for snorkelling, diving and swimming so make sure you spend a few days here exploring all the wonders it holds. 
Between the Whitsundays and Cairns, you can break up the journey with a stop in Townsville or even take a ferry over to Magnetic Island.  Hire a convertible car for the day and drive around the island exploring the abundance of wildlife and koala spotting.
On the way up to Cairns you can also stop at Mission Beach, for the more daring traveller, why not try a sky dive where you get to land directly onto the beach! This is also a great place to go White Water rafting on the Tully river, something I really wish I had done.
My last destination on the East Coast was Cairns. My advice here is to venture past the city, carry on up to Port Douglas and Cape Tribulation. Port Douglas and Cape Tribulation is where the rainforest meets the reef, take a walk along the mile beach, visit one of the national parks – Mossman Gorge was amazing to see – go sailing or try the canopy swing, there's plenty to offer.
In summary, the East Coast is big! You need time to do it all. I would say 4 weeks would be ideal, but if you only have 2 weeks you may want to consider some flights or overnight journeys to fit in as much as you can.
We can help you travel by camper van, self-drive or escorted tour, whatever your style or budget Thames Travel can tailor the trip to meet your requirements!
Get in contact – 020 8891 0166 | [email protected] 
We look forward to hearing from you!
SPECIAL OFFER:
Twin centre, Lizard Island, East Coast Australia 
£4199 per person
> Includes international flights from LHR with Emirates 
> 3 nights at the Shang-ri-la, The Marina, Cairns
> 5 nights Full Board at Lizard Island
> All transfers and airport taxes.